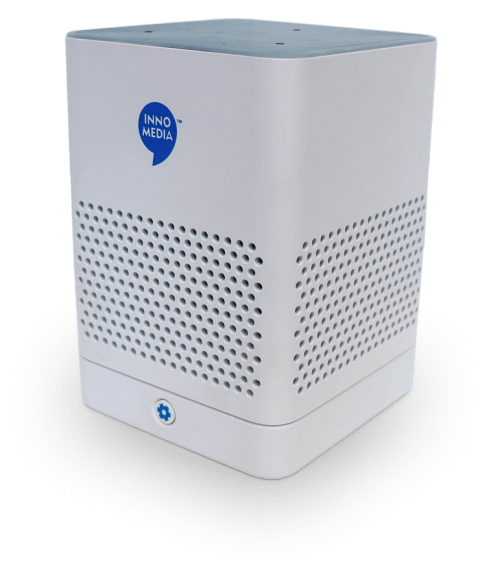 An Alexa Voice Service (AVS) and Alexa Communication (ACM) enabled intelligent speakerphone and smartspeaker which can be configured to allow a VoIP subscription to deliver incoming and outgoing calls

The BuddyTalk BT110, an Intelligent Speakerphone and Alexa built-in Smart Speaker
Standard Alexa questions and commands
Timers, alarms, reminders
News briefing and sport updates
Audible and Kindle book reading and navigation
IoT control of Alexa Voice Service supported devices
Convenient phone call control
Multiple voice interfaces
Superior voice quality with advanced acoustic procesing and high-quality wideband codecs
Flexible network interfaces
Supports inbound & outbound calls, Alexa-to-Alexa calls, drop-ins, messaging, and announcements
The BuddyTalk BT110 is an Alexa Voice Service (AVS) and Alexa Communication (ACM) enabled intelligent speakerphone and smartspeaker suitable for use in a home, office or conference room environment. With AVS, the BT110 brings you a broad range of AVS smartspeaker features such as standard Alexa questions & commands, timers, alarms, reminders, and voice-enabled control of AVS-supported IoT devices.  With ACM, the BT110 allows voice-initiated calling using InnoMedia's internal SIP stack, as well as supporting Alexa-to-Alexa calls, drop-ins, messaging, and announcements.  A VoIP service provider's account can be configured for both inbound and outbound calls ("BuddyTalk Calling") throughout the service provider's network coverage area. 
The BT110 has a variety of convenient call control mechanisms: utilizing voice commands, a tablet, an integrated touch panel on the device, a smartphone app, or a standard telephone.  During calls, users can communicate either using the hands-free speakerphone, or using a smartphone or standard telephone handset for added privacy. 
A Smart Speaker with Alexa Built-in
Certified by Amazon AVS, the BuddyTalk platform supports a broad range of AVS smartspeaker features such as standard Alexa questions & commands, timers, alarms, reminders, and voice-enabled control of AVS-supported IoT devices.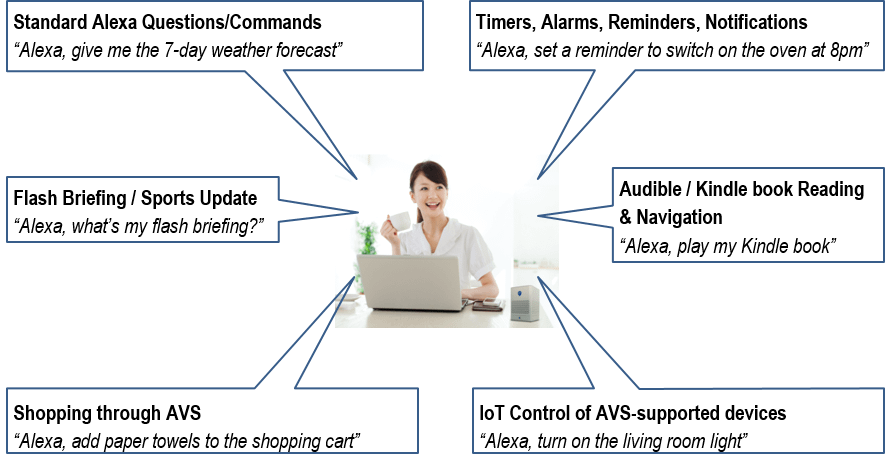 Flexible Phone Call Control and Multiple Voice Interfaces
Convenient phone call control: Calling by voice to contact's name or number, by mobile app, or by analog phone connected to the BuddyTalk BT110 RJ11 port

Multiple voice interfaces: Hands-free speakerphone mode or mobile phone/POTS private mode
Switching Effortlessly between Speakerphone mode and Mobile Phone Private mode
Initiating & answering calls using voice commands
Conversing comfortably in high-quality speakerphone mode
Switching to private mode
Conversing in Private mode for added privacy and mobility
Alexa Communication (ACM) certified Intelligent Speakerphone
With the Alexa Communication extension, the BT110 supports Alexa-to-Alexa and Alexa-to-Skype incoming and outgoing calls, messaging, drop-ins, and announcements.  Additionally, the BT110 permits the configuration of a VoIP service provider, and utilizes the BuddyTalk Calling frameworks to allow all incoming and outgoing calls within the service provider's coverage area. This universal calling capability, together with its superior voice quality in 2-way hands-free voice communications, convenience in call control, and its multiple voice interfaces make the BT110 an ideal Alexa AVS-enabled voice communications device for residential, SMB and enterprise customers. 
Calling Sequence: BT110 interacting with ACM and a VoIP Service Network
User issues dialing request

Alexa responds to user dialing request

Alexa ACM provides callee dialing information to BT110

BT110 initiates call through the VoIP service provider network using the InnoMedia SIP Stack

BT110 and Alexa synchronize call states
RJ11 Port with House Wiring Support
Built-in intra-building lightning protection on RJ11 port

Extends use of calling with BuddyTalk BT100 device to a phone in another room in the house.

GR909 line diagnostics for smooth installation.
Network Interface Options
The BT110 supports several configurations of its network interfaces to allow deployments into enterprises with different network architectures.
The BT110 has two physical network interfaces: Gigabit Ethernet and 802.11n WiFi. In the redundant mode, either one can be chosen as the main physical interface. When both physical interfaces are connected, the Ethernet interface will be the main network interface.                                                                                                                                              
The enterprise voice network may use an internal IP-PBX, an external VoIP SIP trunking solution, or a VoIP-based hosted service. If the enterprise voice network is separated and isolated from its data network, the BT110 can be configured as dual-homed hosts with one interface (e.g., WiFi) connected to the data network and the other (e.g., Ethernet) connected to the voice network.
Enterprise Network Traversal using VPN
The BT110 has a built-in VPN client, which, if enabled, performs enterprise network traversal. The VPN client has two routing modes: 1. all traffic (both data and voice) goes through the VPN, and 2. only voice traffic (both SIP signaling and RTP media) goes through VPN, and all other traffic is still routed to the original enterprise default gateway.  
      Traffic Segregation with VLAN
For Quality of Service (QoS), security, or other considerations, some enterprise networks employ VLAN to segregate traffic. Often, voice and data packets are separated using VLAN.  The BT110 supports VLAN tagging, thereby, allowing enterprise VLAN segregation using VLAN switches.
To equip it with VoIP capability in a business environment, the BT110 can be configured as an IP phone to the enterprise's existing IP-PBX, or it can be configured to subscribe to an external VoIP service.  
BT110 as an IP Phone Extension to an existing IP-PBX
The BT110 can be configured as an IP phone extension to the existing enterprise IP-PBX, utilizing the IP-PBX's inherent calling capability to make incoming and outgoing calls.  This will require minimal enterprise voice configuration modifications, and instantly turn the environment into a voice-enabled workplace.  
BT110 with an External VoIP Subscription
An alternative to configuring the BT110 as an IP phone extension to the existing enterprise IP-PBX is to add an external VoIP subscription to the BT110.  In such a configuration, the BT110 device acts as if a new phone line is added to the enterprise.  
For businesses using IP-PBXs with prefix-based dial plans, Digitmaps and Digit Replacement Rules offer convenient and user friendly dialing to accommodate POTS dialing (with prefix), Voice Commands dialing (with or without prefix), Call History-based dialing (without prefix), and Contacts-based dialing (without prefix) using the BuddyTalk Tablet Controller and Mobile App.  
BuddyTalk Mobile App and Tablet Controller provide:


Flexible call control, call status display, and call status monitoring
Device setting and control

Mobile App enables mobile phone based Private mode for added privacy and mobility. 
Flexible Network Interfaces for Data and VoIP Connectivity:
One network I/F (e.g., Wi-Fi) connects to the Internet for data traffic and access to the Alexa/Amazon network and InnoCloud servers.
The other network I/F (e.g., Ethernet) connects to enterprise voice network to access office office service.
VoIP: Supporting both SIP trunking and Hosted Service models 


SIP Trunking – Register to office IP-PBX
Hosted Voice – Register to ESBC or Hosted Voice SIP switch
SIP Trunk/IP-PBX based Office Phone System
Hosted Voice based Office Phone System
Natural and convenient call control – Digitmaps and Digit Replacement Rules seamlessly handling office prefix dialing ruls
Voice calling without modifying (Alexa App) Contacts
Mobile App or Tablet Controller dialing without modifying Contacts
Accustomed POTS analog phone dialing with prefix for external numbers 
Seamlessly connect to your office phone system and appear as an office phone extension
Convenient voice & Mobile App call control, and automatically handling office prefix dialing rules for natural and user friendly internal and external calls
Exceptional voice clarity with high-quality wideband codecs and advanced audio processing
Enjoy favorite Alexa smart speaker fatures  
The BuddyTalk series is a family of voice-enabled intelligent speakerphone/smartspeakers comprised of the BT100, BT110, and BT200 products. Offering unprecedented calling flexibility, the BT100 is optimized for residential users while the BT110 is suitable for residential, SMB, and enterprise users.  With Alexa-for-Business integration, the BT200 is uniquely positioned to provide a range of Alexa-for-Business supported enterprise applications and services.